Most Timeshares Only reviews are negative. This is odd because, from first glance, the Timeshares Only website has a very clean and professional design. But as we dug deeper into our research, we discovered some shocking truths.
Immediately we confirmed they offer 3 primary services: timeshare cancellation, rental, and resale. Similar to most resale companies, Timeshares Only charges upfront fees to list your timeshare for sale. One important note we would like to point out here is that the resale market can be burdensome. Most timeshares do not retain a substantial resale value. Like cars, once you've purchased, their value drops immediately!
This makes it extremely difficult to resell a timeshare. Unfortunately, this has also led to many resale scams in the industry. Scam companies take advantage of this challenge to sell a timeshare by feeding many owners with false hopes. You might hear they have buyers who are "ready now" to purchase your timeshare. But no matter the sales pitch, after hearing tons of horror stories, we've learned one consistent truth. Most resale scams start with companies asking for payment upfront.
For this reason, we do not recommend you pay any upfront fees. Instead, validate that these people can actually sell or cancel your timeshare first. You'll avoid several scams this way! To learn more about resale scams, click here.
Moving forward, our team next came across the "TO GO Membership" section. We found this program interesting because it's a way owners can receive some maintenance relief during the resale process. Reading further, we learned the membership includes deals on tour packages, low rates with several resorts, cruises, and more. But in all fairness, they sound just like the timeshare people. The goal is to get out of your timeshare, not subscribe to another vacation membership.
This is why we say the most legitimate way out of a timeshare is through a reputable exit company. One that uses attorneys to cancel your contract. To see the list of exit companies that we have reviewed, click here.
We do admire the company's 'About Page.' Here they list information on their staff as well as sister companies they're affiliated with. This demonstrates transparency from the company to the public, which is typically a positive sign. Another impressive attribute was the company's 'Blog' page. Timeshares Only do an excellent job here by providing information on some of the most popular vacation destinations. They even include information on how some of the more popular vacation memberships operate, such as RCI.
The company didn't stop there. To the right of this page, Timeshares Only include a link to download their Free Exit Guide. This does separate them from other companies because not everyone is willing to go to extra lengths for their customers. And seeing the information they have gathered for those who are eager to learn more is excellent customer appreciation.
Any company willing to educate its viewers is a positive sign. But, unfortunately, we still cannot recommend them. We only recommend companies with no upfront fees and that offer an escrow payment option. That way, you stay protected.
We recommend escrow because it eliminates all up-front fees paid directly to the exit company. Why would you want to risk losing thousands up-front before a service has been fulfilled? What if the company decides to file for bankruptcy? We've seen hundreds of similar cases where companies have run off with everyone's money. Scam companies have left many timeshare owners in horrific situations. To learn more about why escrow is essential, click here.
Similar to almost every exit company, Timeshares Only costs are not listed online. This is normal in the timeshare cancellation industry because fees are typically determined after having a free consultation with the company.
This is because most companies base their prices on the complexity of your situation. For example, owners who still have a mortgage balance are usually more challenging contracts to get out of. This will require more effort from the exit company.
Timeshares Only is a little different from other companies in that they offer multiple services. A few Timeshares Only BBB complaints did mention a price, typically around $1000 for a transfer or listing. However, again we do not recommend paying high upfront fees to list your timeshare for sale. Below is a recent complaint from a Timeshares Only customer describing their experience:
Update as of May 2021, Timeshare Only is a BBB Accredited Business, and they have been in business for 12 years. Though the company has an A+ rating, they only have 9 customer reviews with a 1.44/5-star rating. In addition, 8 customer complaints closed in the last 3 years, 1 in the recent 12 months.
Timeshares Only have a 1/5-star rating on Yelp with only 7 customer reviews. They have 0 reviews on Trustpilot and Facebook. And we discovered several Timeshares Only complaints on consmeraffairs.com. This gives the company a negative appearance and truly hurts their credibility to sell a timeshare.
A company's online reputation is an excellent source to learn a lot about how they treat their customers. Likewise, customer feedback reveals a lot about how a company operates as well as its true intentions.
Below is a recent Timeshares Only complaint from the Better Business Bureau: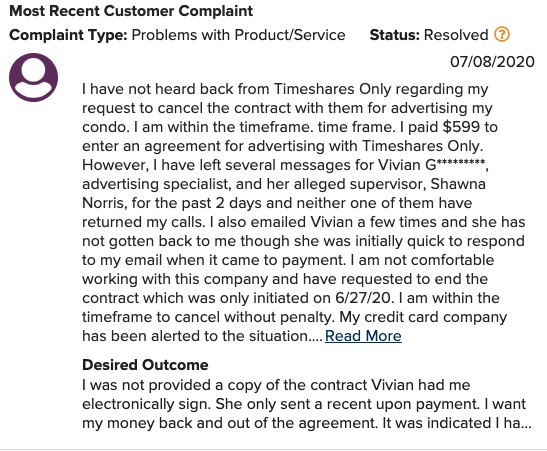 Overall, we do not change our recommendation of hiring an exit company that offers an escrow payment option. We never recommend paying anyone up-front. Therefore we cannot recommend Timeshares Only.
The company lacks positive online customer feedback, which hurts its business image. This also damages their credibility in backing up some of the claims they make. It would be very risky to pay in full and upfront.
Contact our team to help you find a reputable exit company ideal for your current timeshare situation. Our team only recommends hiring timeshare exit companies that offer escrow, so you eliminate all up-front fees a protect yourself from being scammed. Fill out the form on the right or contact us through Live Chat for a free personalized consultation. Learn more about how you can protect yourself against a timeshare exit scam! If you would like to take your timeshare education further, click here to download our premium timeshare exit guide! We've listed tons of exit strategies as well as common scams so you can stay protected.